Working from home and conducting meetings in front of a camera may continue for the next few months. That means more conference calls, webcasts and video demos from the comforts of your dining room, kitchen table or home office. We recommend that you settle in and confidently set up your lighting by maximizing what you already have around your house or apartment to turn your space into a broadcast set. It's what we pros do when we're stuck at home, too! 
Being the one participant without a video feed on your conference call won't fly anymore! Be more confident and comfortable turning your camera on: Follow these quick tips from the Media Professionals here at Staging Solutions and you'll see it's as easy as "doing this, not that". 
Scott McClennen, our resident Media Production Manager, has developed an amazing series of tips on lighting and sound using laptops and Smartphones to conduct business online. Since most people are not used to being on camera, we are here to help you put your best look forward.
1. What's behind you?
Pay attention to what is behind you.  The background should be pleasing but not too busy. Do you have pictures of your vacation to Cabo last summer partying like a rockstar? They may be incredible pictures worthy of the Entertainment Weekly, but not necessarily appropriate. An interesting background is important, but make sure it is appropriate. 
2. Multiple points of light.
Position yourself where you can use multiple points of light, natural and/or artificial. Use a window as a source but don't sit with your window directly behind you.  Borrow some light clips, find a nice lamp or buy a kit. Most of all follow Scott's Tip of Multi-Source Lighting. 
3. Find a quiet area.
Find a quiet area with little background noise and movement.  If it sounds like you have an echo, try tossing a bathmat, a rug or a few beach towels down in your room if you have hardwood or tile floors. These act as dampeners. Most laptops have the microphone on the top of the keyboard, but if you have a tower, make sure the microphone isn't on the floor under your desk or table.  If it is, grab an external mic and place it on your table or desk. Trust us, no one wants you to sound like you are two rooms away. 
4. What to wear
Remember you are on camera so look the part. Try medium colors, not black or white or tight patterns. Also, avoid wearing bracelets that bang or scrape on your desktop or table.
As with any television news anchor, always remember if you can keep the camera focused on your head and shoulders…pants are optional. You really can do this like the pros!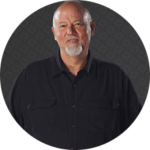 Scott McClennen
Scott McClennen is both production manager and sr. media producer who calls shows, directs and edit video and audio files.  Check out his full bio to learn more.