Are you still tinkering with the lighting in your home office?  Want to make your workspace or presentation background #RateMySetup-worthy?
When it comes to great lighting in any environment, we say: Cookies.  Not chocolate chip or snickerdoodle, but Cucaloris: A device for casting shadows or silhouettes to produce illumination. Cookies for short.  
Scott McClennen, our resident Media Production Manager, offers some tips to help you put your best look forward. Try out these ideas and  your background will change in the blink of an eye! 
You'll need a few things you can usually find around the house: cardboard, a safety knife, and a light source. (For a full list of supplies and a demonstration, click on the link above and watch Scott's 90-second video.) Cut out a few random shapes in your cardboard with the knife. Position your light source to shine on a wall in the background, and safely attach the cut-out cardboard – or Cookie – to the light. As the light shines through the cardboard, the patterns create a more natural look by breaking up the illumination from the bulb.  
Pro Tip: For a softer, jazzier background, position the Cookie closer to the light source!
If you have questions, contact us here at Staging Solutions. We're ready to share our expertise and help you improve your home office or presentation setup.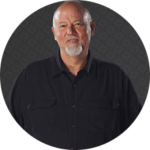 Scott McClennen
Scott McClennen is both production manager and sr. media producer who calls shows, directs and edit video and audio files.  Check out his full bio to learn more.