Every year the Houston chapter of the American Marketing Association (AMA) gives The Marketer of the Year Awards. They narrow down the best of the best in their fields until they are left with three finalists in each of the twenty featured business categories. The MOTYs aim is to recognize exceptional marketing efforts from Houston area companies.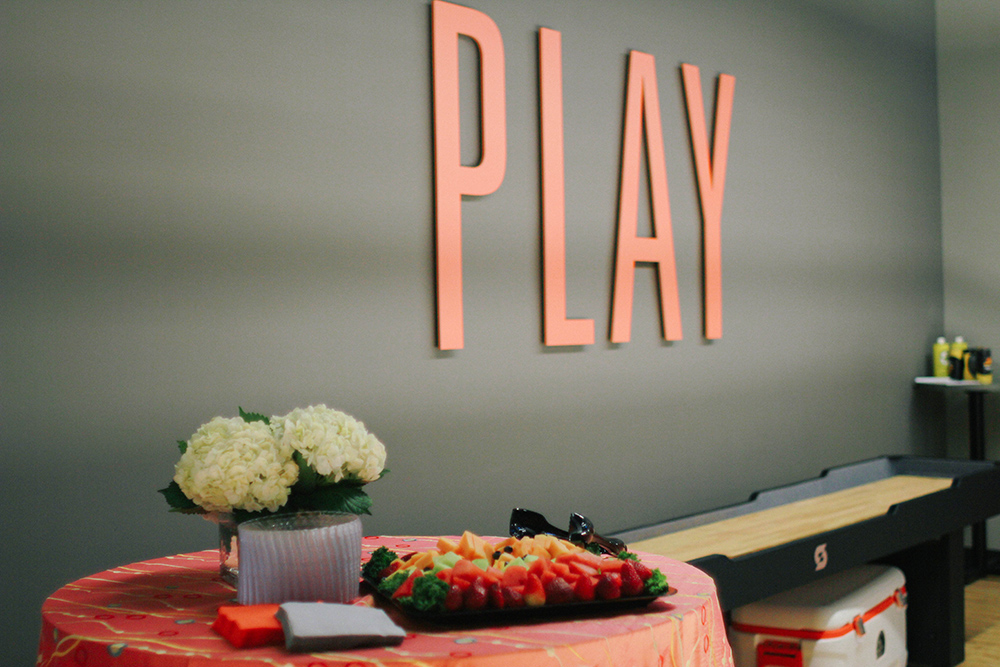 As an active member of AMA Houston, Staging Solutions has worked with and sponsored events with the organization in the past. Just last month we sponsored the AMA monthly meeting at the Houston Junior League where members were afforded networking opportunities and had a chance to listen to and learn from Anika Sehgal, the Senior Vice President of Communications and Marketing for the Astros. AMA is a great organization that inspires its members to come together as a marketing community to strive for progress and innovation. For that reason, Staging Solutions continues to align itself with AMA Houston.
This year we were excited to team up with Coterie Spark, a corporate event planning and meeting management company, to host AMA MOTY Award finalists for a happy hour and film shoot. For the event, we offered our beloved and unique office space to the firms that have achieved and impressed their peers in the AMA community. Our open concept office space provided the perfect atmosphere for the happy hour, just as it provides us with a productive work environment during business hours.
The Staging Solutions office and employees always aim for high efficiency, but also have a special space that serves as a place to relax. We want our team and guests to have the opportunity to breathe and let off a little steam during a busy week. Work and life are a balance and the Staging Solutions office provides the perfect sanctuary for individuals to achieve the heights of their potential. Feel free to take a peek at our space whether you're just browsing online or stopping by to experience our offices firsthand. Tri-annually we'll be hosting our ever-popular "Thirsty Third Tuesday" or T3T which is an open happy hour meant to encourage networking and social interaction between the hardworking individuals in the many communities we're proud to be a part of.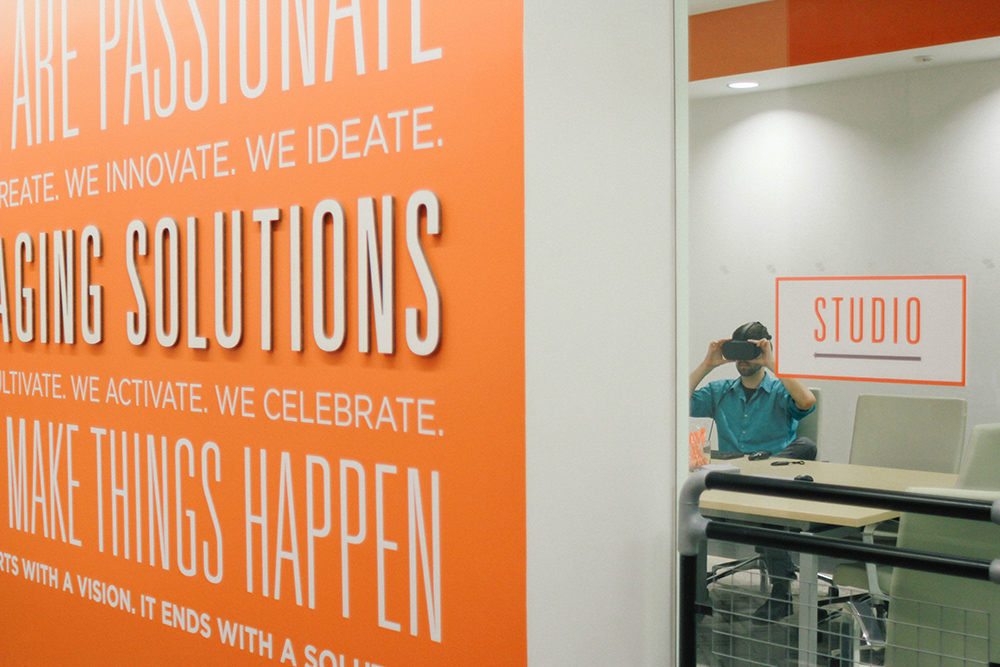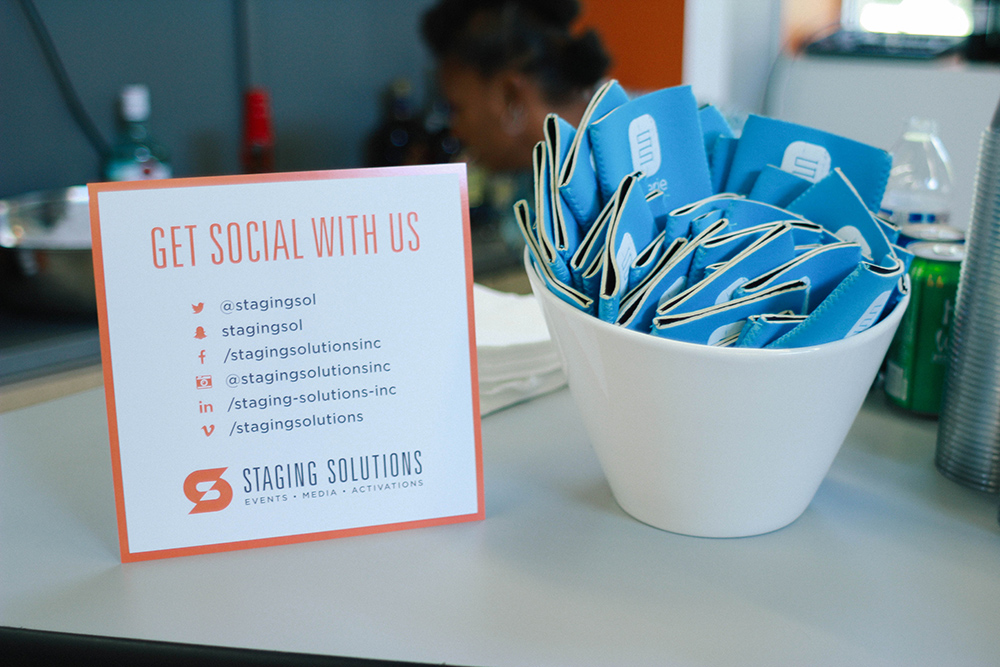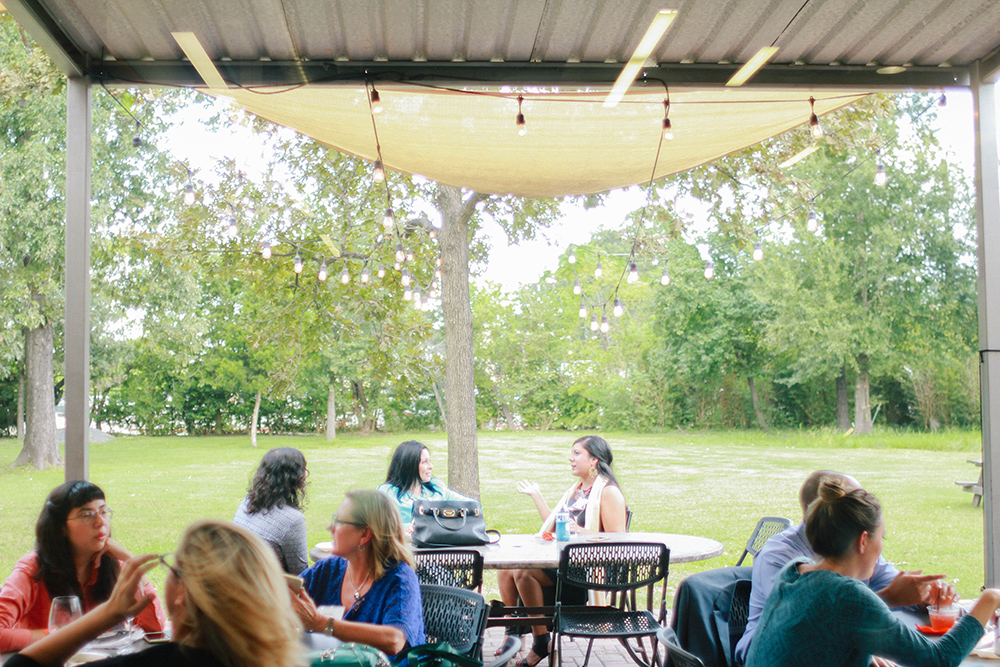 For this specific event we held, as with most happy hours, the finalists were welcomed with their choice of beverage but we had a few twists planned out for the guests to take this happy hour to the next level. We crafted a unique and socially interactive Snapchat filter, built up our green room for a finalist photo shoot, and incorporated some of our own work through the use of virtual reality. The Snapchat geofilter was a fun way for finalists to interact and highlight their achievements with each other, Staging Solutions, Coterie Sparks, and their broader social networks. Anyone at the event who had the platform downloaded could access the filter with the swipe of a finger and have some fun with their peers.
During the course of the evening, each of the AMA MOTYs finalists were directed to our green room where they had individualized, mini-photoshoots. Staging Solutions took various photos and videos of the teams, but this was for more than just your average photo booth purpose. When the AMA Houston announces the winners of the MOTYs they will feature pictures of the teams that were taken here at Staging Solutions!  We loved being able to incorporate work into a play scenario. As an added feature, SSI incorporated a completely immersive experience with virtual reality in one of our conference rooms. This allowed users to walk through some of the recent events that Staging Solutions has produced. Being able to highlight our work in a room full of the most cutting edge people in marketing was a special opportunity that we cherished.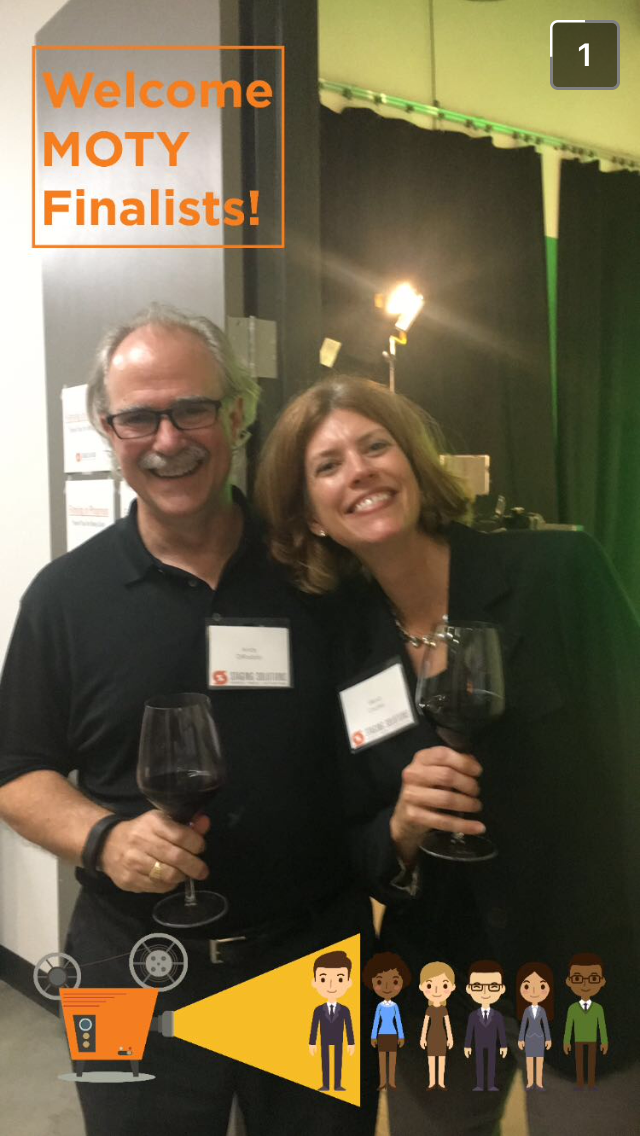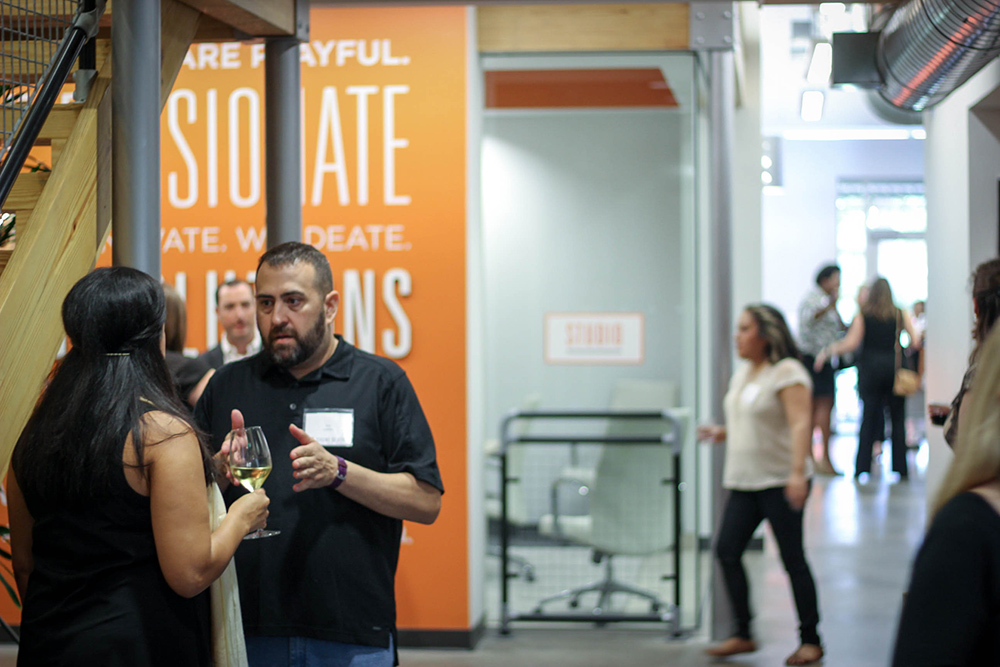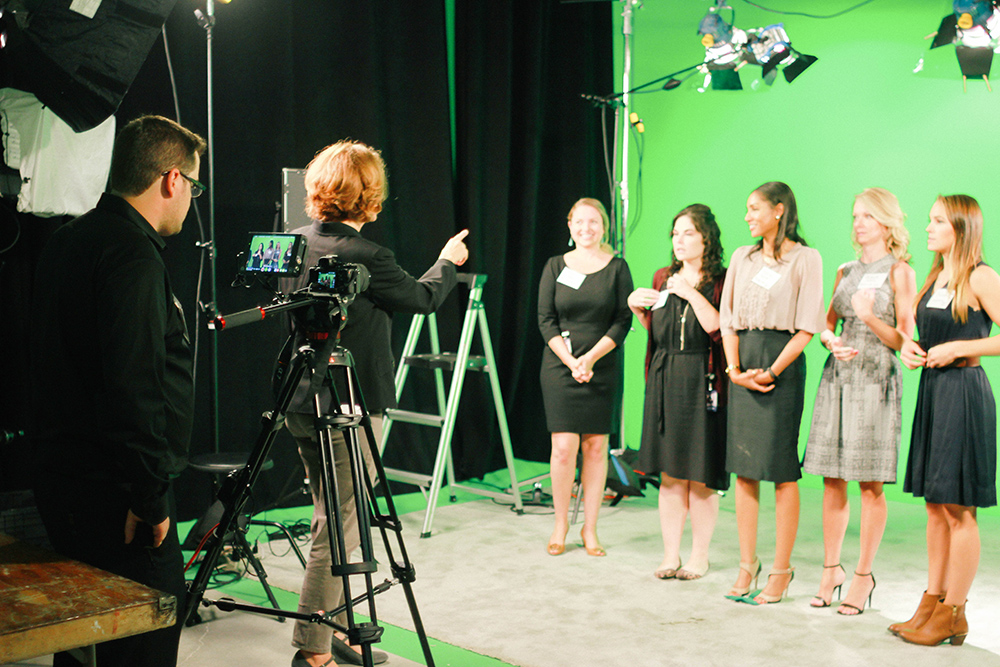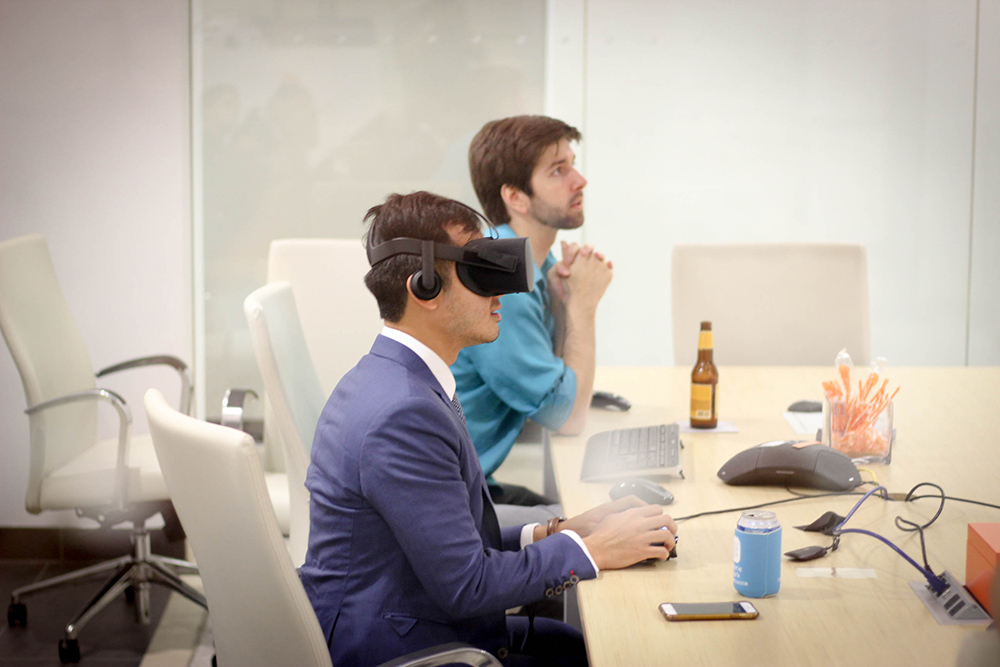 Here at Staging Solutions, we love taking the opportunity to collaborate with other similar and brilliant minds in the industry.  Events like the AMA MOTYs Award finalist happy hour spark creativity and inspire us towards broader goals. We feel honored to have been able to be a part of the larger scale event to spotlight local firms in marketing. We look forward to seeing the winners announced and wish all of the finalists good luck!